PhantomBuster Proxy Integration with Bright Data
Learn how to setup your PhantomBuster proxy settings and integrate with Bright Data's Proxy IPs
Learn how to setup your PhantomBuster proxy settings and integrate with Bright Data's Proxy IPs
PhantomBuster is an automation tool for teams to extract lists of leads, enrich data and emails as well as send outreach campaigns
Learn how you can combine and implement different proxy types on PhantomBuster based on your needs. The integration doesn't take more than a few minutes and is easy to configure if any changes are required.
Here is a step-by-step guide to integrate PhantomBuster:
Before setting up your PhantomBuster integration, we recommend you create an ISP zone with an exclusive IP so PhantomBuster can log in to your social network accounts. Don't forget to add your targeted domains, or use the "All domains" setting to target multiple sites with the same IP.
Here is an example of zone settings: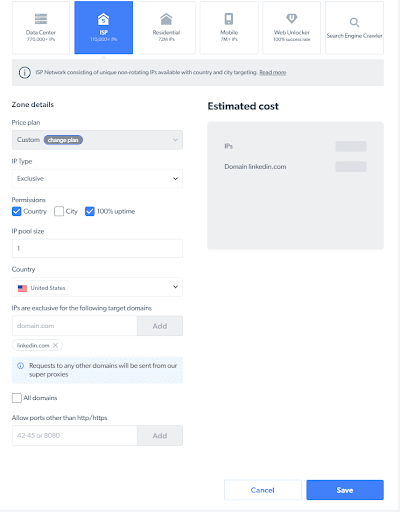 Open your API and integration tab, select the zone you have created, choose "other software", and leave the tab open in the browser. You will need these credentials in the next step.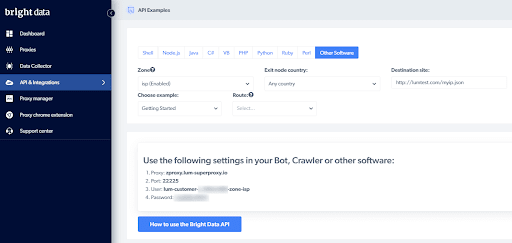 Go to PhantomBuster home page and sign up for the service here (14 days trial)
After creating your account, go to the Proxies settings page:
Click on the "New proxy pool" button to create a new pool.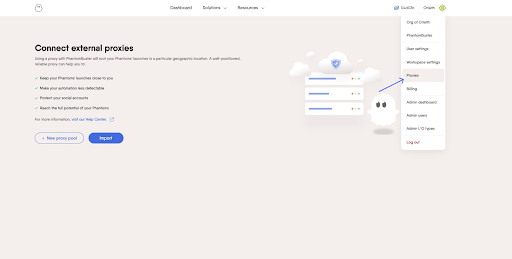 Name your pool (for example, Bright Data):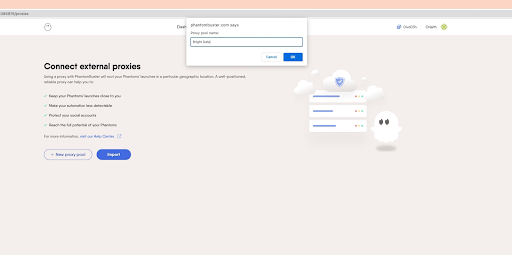 In the opened window, use your credentials from the Bright Data API and integration page.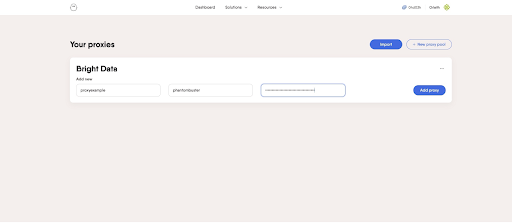 Go back to your PhantomBuster dashboard.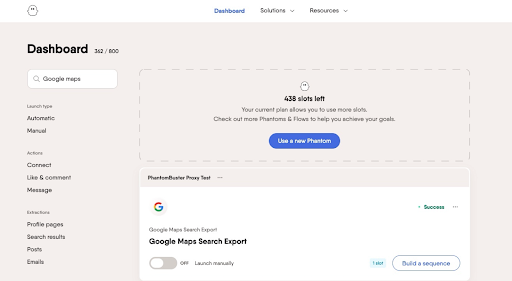 Go to your Phantom setup menu.

Go to settings, and choose the "Show advanced settings" option:

In the proxy settings, choose the proxy pool you have created before in the proxy settings: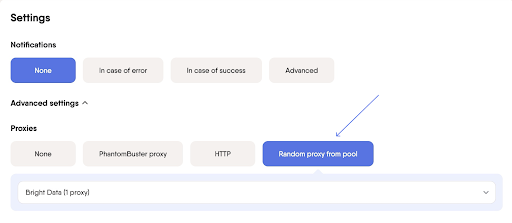 Click the save button. Your Phantom will use your Bright Data zones for all the new jobs.
Please note: you will need to leave your zone whitelist setting as "any" for this service to connect to your zone.
About Bright Data proxies:
Residential proxies: With over 72 million real IPs from 195 countries, Bright Data's residential proxies enable you to access any website content regardless of location, while avoiding IP bans and CAPTCHAs.
ISP proxies: With over 700,000 ISP IPs, leverage real static IPs from any city in the world, assigned by ISPs and leased to Bright Data for your exclusive use, for as long as you require.
Datacenter proxies: With over 770,000 datacenter IPs, Bright Data's datacenter proxy network is built of multiple IP types across the world, in a shared IP pool or for individual purchase.
Mobile proxies: With over 7 million mobile IPs, Bright Data's advanced Mobile IP Network offers the fastest and largest real-peer 3G/4G/5G IPs network in the world.