When you use a residential-based proxy service, make sure your proxy provider is acting ethically and legally, and that their infrastructure can handle the scale you require. Otherwise, it may harm your business and cause more harm than good. You wouldn't risk using non-licensed software, so avoid cutting corners when choosing a proxy service. Here are the six factors to identify an ethical partner.
Our IP proxy network is built from millions of unique IP addresses from users who have willingly opted-in to the service in return for ad-free applications or free software. Some proxy providers do not get consent from their peers to share their idle resources, and users are unaware they are being used as proxies. There's no pop-up screen to announce it, no consent and no option to opt-out, and this constitutes virus-like behavior. Check the following to make sure your proxy provider is doing things right:
End users (peers) have given their consent
Informed consent is the only legal way for a proxy provider to obtain residential and/or mobile IP addresses for the purposes of website testing, ad verification and anything else you use a proxy network for. Your proxy provider's network should only encompass actively and willingly opted-in peers.
Opted-in users know exactly what their IP address is being used for, and how their device is being used. The proxy provider has asked for their permission to use their IP, and they have knowingly agreed to join the proxy network.
We acquire our peers for our residential and mobile IP networks through the Bright SDK. Our SDK is integrated into apps by their owners as an extra way of monetizing their users. Users are presented with the option to opt-in to our network and become a peer in exchange for better user experience (ads-free app) or free access to paid services.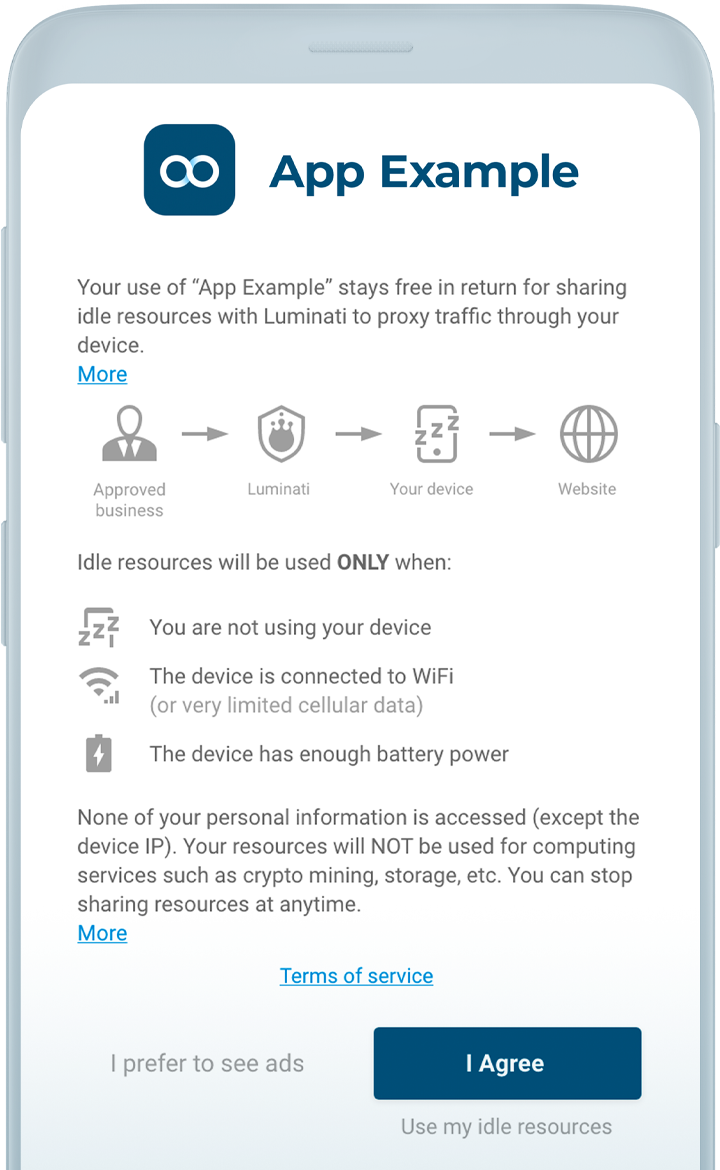 The proxy provider is GDPR compliant
GDPR is the EU's data protection regulatory framework, and compliance is essential to staying on the right side of the law. In short, it refers to data protection, privacy, and transfer, both within the EU and outside of it.
Any proxy provider, and its customers, should understand the importance of giving users greater control over their privacy and data. Privacy practices should comply with data protection laws like the GDPR, and industry best practices.
We ensure our GDPR compliance by obtaining full consent from our peers to use their IP address and treating this personal data according to the GDPR guidelines. Other than IP addresses, we do not collect any personally identifiable information from our peers at any point.
The proxy provider provides real benefits for peers
A legitimate proxy provider will incentivize app users to join its network in some way. This might be an ad-free version of an app, accessing paid features or subscriptions for free or some other value-added compensation.
As a result, app owners can provide better user experiences at the same time as generating extra revenue from their users. We have found that 80% of app users would prefer to be part of our IP proxy network to watching ads or paying for subscriptions. We also see a 10 to 15% increase in the time spent in an app with users that have opted into our network.
In return for joining our network, our peers can enjoy an improved experience with the removal of ads or free usage of an app. Plus our SDK is so lightweight, it won't affect the size of the app.
Peers can opt-out at any time
Giving peers the option to opt-out whenever they want should be part of every ethical proxy provider's service, but unfortunately, this isn't always the case. If a proxy provider is failing to ask users to opt-in, they probably won't be giving them the opportunity to opt-out either.
App users might decide for whatever reason that they don't want to be part of an IP proxy network anymore, and they are happy to revert back to the non-ad-free version of an app, for example.
We are committed to being an ethical and safe provider, so all peers who share their IP address with our residential and mobile networks have the option to opt-out at any time.
Traffic is only routed through peers' devices when they're idle
Using an end user's device to route traffic when they are actively using it could slow it down and impede on their user experience.
A legitimate proxy provider will not use its peers' devices and IP addresses unless they are idle at the time, to make sure the user experience is unimpacted while they use their device.
Once an app user has agreed to share their device resources and become a peer on our IP networks, our infrastructure ensures traffic is only routed through the device under strict conditions. These include the device being idle and having sufficient battery power or connected to a power source, and usually, but not always, connected to WiFi.
The proxy provider uses super proxies
Super proxies allow for the fastest data collection possible, by acting as load-balancing servers and being placed in close proximity to our peers in all geolocations. They enable us to route terabytes of traffic to exit nodes around the world, helping us – and you as our customer – carry out reliable, scalable web data extraction and aggregation operations.
They also act as a security measure. Accessing our rotating residential and mobile IP networks require User compliance evaluation , and super proxies help manage traffic coming in and ensure that it is compliant with our Terms of Service. They also strip any identifying information from requests to target websites made through our network, so they are not traceable back to the super proxy or you.
Our super proxy infrastructure consists of more than 2,600 servers stationed close to our peers worldwide, and 1,400+ servers in the US alone.
If you use any residential proxy service other than ours, make sure the service does not include servers and/or residential proxy nodes located in the United States which infringe on any of our patents.
Want to find out how an ethical proxy provider works in practice?
What you get by joining Bright Data's proxy network:
Your own personal Bright Data representative to set-up your account
Access to the largest residential proxy network in the world
24/7 support no matter where you are
We will match your first deposit of $20-250!